Montana Geodetic Resources
Welcome to the Montana Geodetic Resources Page, created and maintained by your Montana Geodetic Coordinator and Montana Geodetic  Working Group.  Within, please find useful information and updates on events and programs that directly affect Montana's geodetic data users and creators.
The Montana Geodetic Working Group currently consists of representatives from NOAA/NGS, MARLS, MDT, The Montana State Library, MAGIP, and the Tribal Nations.
Brian Shaw – Rocky Mountain Regional Advisor (CO, MT, WY) – NOAA's National Geodetic Survey (NGS) – [email protected] – Phone # 240-533-9522
Stewart Willis – Montana State Geodetic co-Coordinator – MARLS – 

[email protected]

 – 406-529-8171
Erin Fashoway – Montana State Library – 

[email protected]

 – 406-444-9013
Wallace Gladstone – Montana Tribal Nations –

[email protected]

– 406-206-5199
Stephen Parks – MAGIP
8-20-20 UPDATE: With the GPS on Bench Marks campaign and many users submitting data to OPUS Share we created a tutorial video to help train users on submitting data.  Please share with any of your constituents or surveying societies that would be interested.https://geodesy.noaa.gov/corbin/class_description/opus-share-tutorial/
8-20-2020 Update: New State Plane Coordinate System is in the works
View the latest Geodetic Working Group Report
GPS on Bench Marks
Montana State Plane Coordinates
Real Time Network Pilot Program
BPA Cadastral Monument Database
Other Resource Links
Contact
 GPS on Bench Marks Campaign in Montana
View the INTERACTIVE REGIONAL BENCH MARK MAP to discover and reserve remaining bench marks prioritized for recovery and survey-grade GPS observation! (WEBINAR 2 offers an introduction in how to use this map application beginning at 1:05:40 …link below.)
LIVE DASHBOARD OF THE GPS ON BENCH MARKS EFFORT IN THE ROCKY MOUNTAIN REGION.  See who is submitting observations!
View the NGS BENCH MARK PRIORITY MAP to see the nationally prioritized bench marks. (completed marks shown by green symbol)
Don't know what the GPS on Bench Marks effort is?…CLICK HERE to learn more from the National Geodetic Survey website.
SIGN UP HERE to provide your volunteer information to the regional campaign and be on our list to receive future updates.
Three webinars have been offered and recorded.  If you'd like to view these webinars, please find the links below:
VIEW WEBINAR 1:  This webinar was an introduction to the GPS on Bench Mark effort and available resources.
VIEW WEBINAR 2: This webinar focused on bench mark recovery. We reviewed what a data sheet is and what most of its content reveals (so you can find the mark), how to use DS-World to upload your recovery information (descriptions, photos, coordinates) to the NGS database (the information will be added to the existing data sheet).
We discussed the map provided for the Rocky Mountain Region (CO, WY and MT) as well as contacts in each of the states. (****An introduction in how to use the INTERACTIVE REGIONAL BENCH MARK MAP starts at 1:05:40)
VIEW WEBINAR 3: This webinar focused on data collection and submittal via OPUS Share. Link to be provided soon!
State Plane Coordinate System 2022 (SPCS2022)
In 2022 (or therebouts) a new National Spatial Reference Frame (NSRF) will be released by NGS.  This updated National Spatial Reference System (NSRS) will do away with NAD 83 and NAVD 88 datums and rely on GNSS infrastructure and an updated and time-tracked GEOID model.  Montana State Plane Coordinates will also be affected as NAD 83 is left behind.  Learn more about NGS datum naming conventions HERE.
Currently, this State Plane Coordinate System update is open for comment until August 31, 2018.  READ THE DRAFT POLICY HERE.  Email your State Geodetic Coordinator to submit your comments.  [email protected]
From the NGS website:
Through a concerted outreach effort by NGS, each state will be given the opportunity to update their State Plane Coordinate system, with the roll-out of the four new terrestrial reference frames. Any requested changes to the system must be in accordance with the NGS Policy on Changes to State Plane Coordinate Systems.
Should a state decide not to provide any feedback, NGS will likely define State Plane Coordinates (SPC) for that state through the same projections and zones associated with NAD 83, but with offsets in northings and/or eastings to distinguish these new coordinates from the SPCs of NAD 83 and NAD 27. As SPCs are a user-driven commodity, NGS is not expending any resources at this time investigating the improvement of this system.
Learn more about the replacement of NAD 83 and NAVD 88 on the NGS website.
Montana's Real Time Network (RTN) Pilot Program
Activation Notification: Montana State Reference Network – Pilot Program 
The Montana State Reference Network (MTSRN) now has several activated Real Time Networks (RTNs) that are providing real-time services and data files for post-processing with additional networks coming online in the first half of 2019.  The MTSRN is a pilot, a test RTN operated as a cooperative effort of public and private partners that includes 30+ reference stations feeding raw observation data to the Washington State Reference Network (WSRN), the cooperative RTN in Washington State that is hosting the pilot under an interstate cooperation agreement.  The MTRSN is a non-proprietary service, with corrections and static files usable by all brands of surveying GPS/GNSS hardware/software, and for all applicable types of agriculture and construction equipment.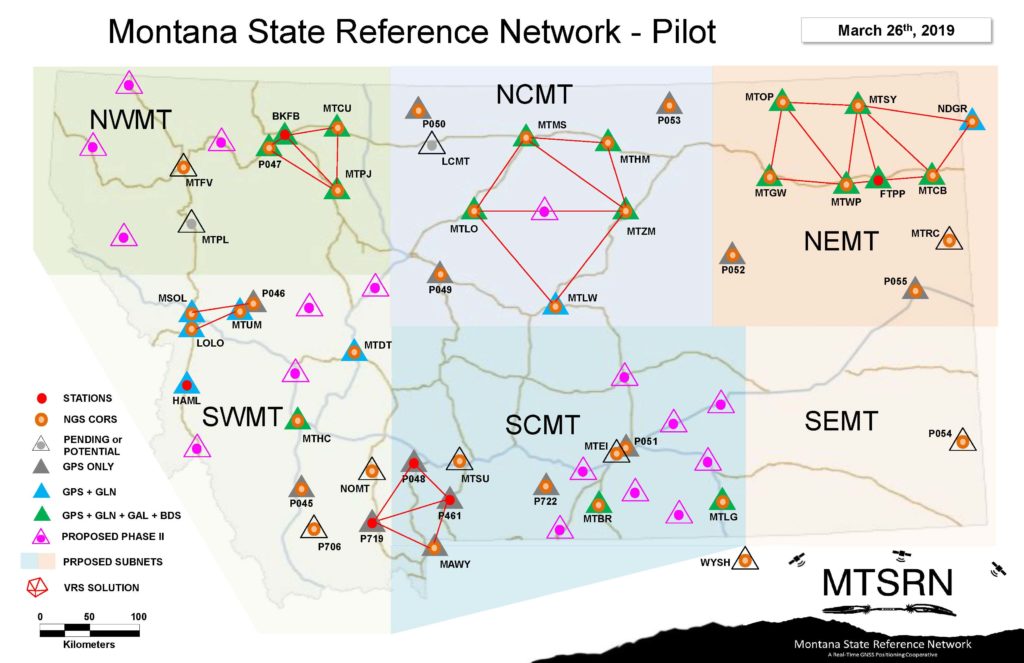 Additional information about MTSRN can be found at www.mtsrn.org or by contacting your local GPS dealer.  RDO, Trimble, and Leica contacts are shown below:
Todd Ferris
Account Manager
RDO Integrated Controls
8571 Running W Road
Missoula, MT 59808
Mobile: 406-794-8747
Office: 406-549-4171
[email protected]
www.rdoic.com
Kevin McKenzie
Frontier Precision
2304 North 7th Avenue – Suite J | Bozeman, MT 59715
local (406) 556.7161 | toll free (855) 208.8005
cell (406) 360.0464 | fax (406) 556.7181
survey technical support | (800) 652.1522
mapping technical support | (888) 779.6631
www.frontierprecision.com
Bryce Scala
Manager
Selby's Engineering Supply
525 Professional Drive/Bozeman, MT 59718
406-587-0782 (O)/406-599-2110 (M)/406-587-9597(F)
[email protected]
www.selbys.com
BPA Cadastral Monument Database
The Bonneville Power Administration (BPA) has been providing the Pacific Northwest with clean energy since 1937, and it has been responsible for surveying its infrastructure since inception.  Over the course of our 80 year history, we have been fortunate to preserve cadastral records across our seven state territory.  We are in the process of creating an ArcGIS Online (AGOL) environment where the individual cadastral records are georeferenced and original field notes can be searched.  We now have Idaho, Montana, and Oregon available for research and want to share this information with you!
The data can be accessed through ArcGIS Online by searching for 'BPA Cadastral', then open the 'APP' icon at the bottom of the search.  You can also reach the same maps here:
BPA Cadastral Control – Idaho
BPA Cadastral Control – Montana
BPA Cadastral Control – Oregon
Please note that the location data was pulled mostly from GCDB values and should be used for research purposes only.  There is no warranty that monuments as noted should be held.  Please be sure to perform additional research and utilize this information for its' historical value in perpetuating evidence.
We will be periodically adding to the database, with Washington cadastral records to follow.  We continue to survey across BPA's service area and will update current records at a regular interval, to be determined.  Please share this with others who may benefit as well.
For technical assistance or questions regarding content, please contact Dave Taylor at 360-619-6947 or [email protected]
Thank you and happy researching!
Kelly and Jay
Kelly L. Miller, RLS, EIT
Supervisory Land Surveyor | TERM – TPP4
Bonneville Power Administration
bpa.gov | P 360-619-6948 | C 360-719-0401
Other Resources